Inheritances and Special Needs Planning for an Exceptional Family Member
A big risk in special needs planning is a completely counter intuitive one – the risk of relatives or close friends leaving your child or loved one with a disability money to their name directly. Why is this a big risk? Any money above $2,000 that someone with a disability receives in their name directly can interfere with that person's ability to receive government benefits, namely Social Security Disability Income (SSDI), SSI (Supplemental Security Income), and Medicaid.
Many don't even think through that they have named the person with the disability in their will or as a direct beneficiary on accounts because they designated the parent of the individual with the disability, but then checked the box "per stripes," meaning that if the parent passes away before the account owner, then the child is the beneficiary. When wills and trusts are put together, they often have statements such as "to my children and/or their heirs." Wills and trusts and beneficiary designations are completed and put aside, and the birth of a new child, even one with a disability, does not set off alarm bells that they should be updated. Or, a well meaning relative might leave additional funding for the person with the disability, thinking they will need it more than others.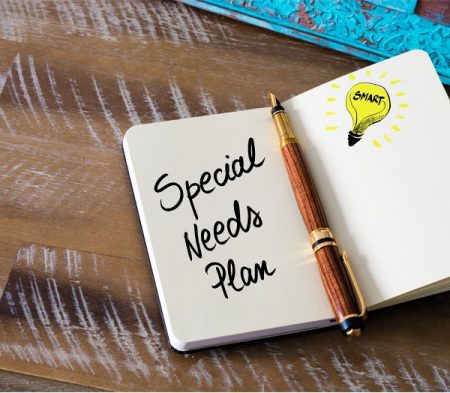 One way to bring this issue to the forefront of relatives and close friends minds is to send a letter asking to make sure that the child is not included in the will or designated as a beneficiary. Be sure to include language that says you were not expecting any money and are not looking for a handout! But are asking that if the intent was there to leave money, or if wills/trusts/beneficiaries have already been completed, to please make this minor change. Explain that you want your loved one to have access to all benefits, health care, and resources so that they can live a productive life, and part of that process is making sure they do not have money that is directly in their name.
If you have a special needs trust already put together, you could ask in the letter that if loved ones feel it is important to have your loved one in their will or listed as a beneficiary, that they name the trust instead. Be sure to give them the full name of the trust including the date the trust was established. You may also want to put together some information about the planning you have done to make sure your child or loved one with a disability lives a fulfilling life, with as much independence and autonomy as possible.
You may be asking, why is it so important to send this letter? Why would I want my loved one to qualify for these benefits, when I have enough money to leave them a sizable sum in a will or trust?
The reason is that so much is unknown in the costs of living a fulfilling life of a person with a disability. There may be a costly future surgery that would greatly improve quality of life but not be covered by insurance. Or your loved one may want the opportunity to live away from home, but still need daily care. Access to government benefits increases the likelihood that your funding will last them through their lifespan and give them the independence, healthcare, and resources that they need to live fulfilling and autonomous lives.
A perfect example are the independent living apartments for adults with high functioning autism at the Faison School in Richmond. Every adult that lives there is on a Medicaid waiver. While there have been conversations with families whose family member with autism would like to live there, they were not able to make it work financially for the person to live there. The Medicaid waiver makes that a possibility.
People with disabilities want to live as autonomously as possible. They want to be seen as people first – with the disability something they live with, not something that defines them. Giving them access to government benefits helps to make that happen.
If you would like to see a sample letter to relatives, or you have any questions about the above post, please click here and we will get back to you as soon as possible.
Disclosure: This material has been prepared for informational purposes only, and is not intended to provide, and should not be relied on for, accounting, legal or tax advice. Consult your financial professional before making any investment decision. The information provided does not constitute an offer or a solicitation of an offer to buy any securities, products or services mentioned.
Take Your First Steps Toward a Life Imagined
Raising your special needs child comes with tremendous joy as well as unique challenges.
Let Eli's Village help you focus on your family's success. Schedule a consultation to realize the life imagined and start creating a lifetime of memories.
Join our Village